Due to its amazing year round warm sunny climate, Lanzarote is the perfect place for outdoor activities and sport. As well as enjoying outdoor sports on an invidiual basis, there are a host of different sporting events throughout the year open to both professional and amatuer sportsmen and women such as the Lanzarote Marathon and IRONMAN Lanzarote. Another highly popular annual event here on the island is the WineRun Lanzarote which will be held on  Sunday 19th of June. If you want to partake in the event though you have to act fast as registration ends Sunday 12th June!

This is a excellent event is unlike a traditional marathon or race, as it takes part in the famous and celebrated wine growing region of Lanzarote, La Geria. The race is designed to work in harmony with the incredible landscape of this region, where the grape vines are grown using a method unique to Lanzarote, and volcanoes form an amazing backdrop. If you decide to take part you will not be disappointed as this is different from almost any other running or walking event you will have tried before.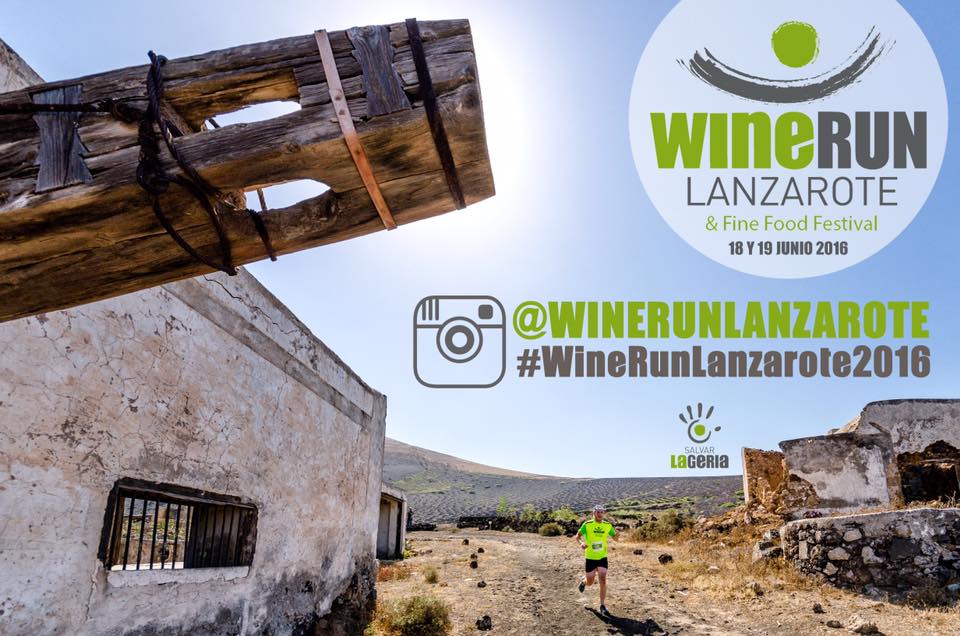 There are three options for those who want to participate in the WineRun 2016. This is either the full distance running race of 23 km, a shorter running race of 12km, or for those who want to take part at a more leisurely pace, a 12km walk through the La Geria region. For those who opt for the walk, the added benefit is also that you can taste a selection of delicious wines along the route. This works well for the walk but would not be so successful for the runners!
Registration includes:
Official race T-shirt
Competition bib
Liability and accident Insurance
Emergency healthcare
Tickets for the Fine Food Festival
and more…
On Saturday 18th June there is the WineRun bib number collection, a traditional food cuisine festival, and a live music event. Then on the Sunday the actual running and walking events take place through the incredible La Geria region which covers an area of about 5200 hectares. La Geria makes a significant part of the unique volcanic landscape of Lanzarote which was recognized by UNESCO in 1993 as a protected Biosphere Reserve area, due to its environmental importance.
A great feature of the WineRun is that is part of the Save La Geria project which aims to help promote sustainable tourism in Lanzarote, and maintain the sustainable way in which wine is produced in the La Geria region. It is recognized that the landscape of Lanzarote is its most important feature and is vital for tourism and its own economy.
It is highly important to maintain this unique environment and protect the natural landscape. Part of the ticket sales for the Lanzarote WineRun 2016 will go towards the Save La Geria project which also supports social projects including for those at higher risk of social exclusion. You can have fun, help a great cause, and enjoy a unique experience in the incredible Lanzarote landscape.
To register for the event head to the Lanzarote WineRun website > http://www.lanzarotewinerun.com/en/
You can also follow the event on Social Media: