Lanzarote's reputation as a top sporting destination continues to go from strength to strength. Due to the amazing year round warm, sunny climate, it is a perfect place to take part in a variety of different sports and fitness activities including running, cycling and surfing. Football (aka soccer) is also very popular with teams across the island, one of which is FC Puerto del Carmen who have an impressive stadium and substaintial fanbase.
Recently there was a fantastic promotion for female football in Lanzarote when Stoke City Ladies FC visited and played at the FC Puerto del Carmen stadium. This summer in August there will be a summer soccer camp for kids organised by Stoke City FC in conjuction with FC Puerto del Carmen and Sporting Tias.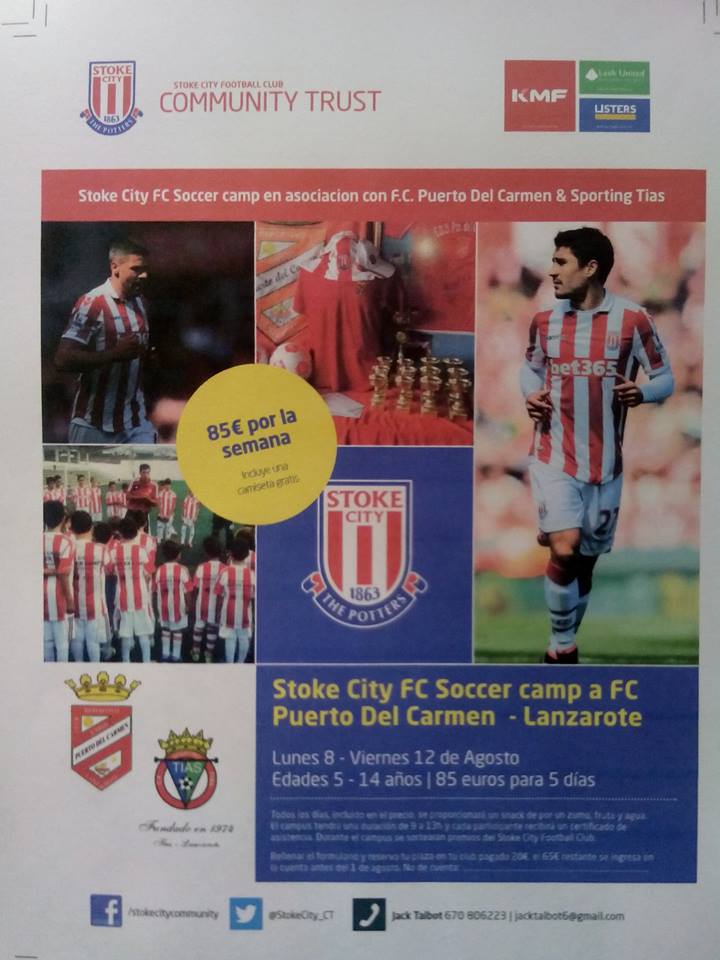 The Stoke City FC soccer camp is an excellent way for your kids to have fun, stay active and learn some new skills over the summer. It is open to kids between the ages of 5 and 14, for both local residents and those here on holiday. Places are limited though, so if your child is interested you need to act fast to book a place for them!
The camp will be running from Monday 8th to Friday 12th August from 9am until 1pm everyday, with a price of 85€ for the week. If your child is interested in taking part in this fantastic soccer camp then contact Jack Talbotby phone: (0034) 670 806 223 oremail: fcpuertodelcarmen@gmail.com.

Dates: Monday 8th August – Friday 12th August
Price: 85

€